Super Deluxe Edition contains 10 CDs (all remastered from original tapes) and a Blu-ray Audio disc with new Atmos & 5.1 surround mixes of the original album and 14 bonus tracks. 155 total tracks with 89 tracks previously unreleased and another 57 tracks with a fresh remix. Included are demos, singles, studio sessions, and 2 complete concerts. Plus, a 100-page hardback book with new liner notes and imagery, a 170-page Life House graphic novel, 2 gig posters, 2 concert programs, 4 buttons and a band photo with printed autographs.

The Remastered albums are available in the following formats: Limited Edition Super Deluxe 10CD/Blu-ray, Deluxe 2CD, CD, LP, Limited Edition Deluxe 4LP, Indie Exclusive Limited Edition Coke Bottle Clear LP, Half Speed LP
Super Deluxe Edition contains 10 CDs (all remastered from original tapes) and a Blu-ray Audio disc with new Atmos & 5.1 surround mixes of the original album and 14 bonus tracks. 155 total tracks with 89 tracks previously unreleased and another 57 tracks with a fresh remix. Included are demos, singles, studio sessions, and 2 complete concerts. Plus, a 100-page hardback book with new liner notes and imagery, a 170-page Life House graphic novel, 2 gig posters, 2 concert programs, 4 buttons and a band photo with printed autographs.

The Remastered albums are available in the following formats: Limited Edition Super Deluxe 10CD/Blu-ray, Deluxe 2CD, CD, LP, Limited Edition Deluxe 4LP, Indie Exclusive Limited Edition Coke Bottle Clear LP, Half Speed LP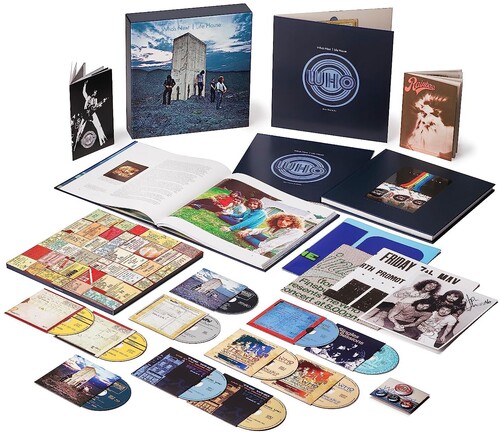 Formats and Editions
1. Baba O'Riley [WHO'S NEXT: Remastered]
2. Bargain [WHO'S NEXT: Remastered]
3. Love Ain't for Keeping [WHO'S NEXT: Remastered]
4. My Wife [WHO'S NEXT: Remastered]
5. The Song Is Over [WHO'S NEXT: Remastered]
6. Getting In Tune [WHO'S NEXT: Remastered]
7. Going Mobile [WHO'S NEXT: Remastered]
8. Behind Blue Eyes [WHO'S NEXT: Remastered]
9. Won't Get Fooled Again [WHO'S NEXT: Remastered]
1. Teenage Wasteland (Demo)* [PETE TOWNSHEND'S LIFE HOUSE DEMOS 1970 - 1971 – PART 1]
2. Too Much (Demo) * [PETE TOWNSHEND'S LIFE HOUSE DEMOS 1970 - 1971 – PART 1]
3. Going Mobile (Demo)* [PETE TOWNSHEND'S LIFE HOUSE DEMOS 1970 - 1971 – PART 1]
4. There's A Fortune in Those Hills (Demo)* [PETE TOWNSHEND'S LIFE HOUSE DEMOS 1970 - 1971 – PART 1]
5. Love Ain't For Keeping (Demo)* [PETE TOWNSHEND'S LIFE HOUSE DEMOS 1970 - 1971 – PART 1]
6. Bargain (Demo)* [PETE TOWNSHEND'S LIFE HOUSE DEMOS 1970 - 1971 – PART 1]
7. Greyhound Girl (Demo)* [PETE TOWNSHEND'S LIFE HOUSE DEMOS 1970 - 1971 – PART 1]
8. Mary (Alternate Mix) (Demo)** [PETE TOWNSHEND'S LIFE HOUSE DEMOS 1970 - 1971 – PART 1]
9. Behind Blue Eyes (Demo)* [PETE TOWNSHEND'S LIFE HOUSE DEMOS 1970 - 1971 – PART 1]
10. Time Is Passing (Demo)* [PETE TOWNSHEND'S LIFE HOUSE DEMOS 1970 - 1971 – PART 1]
11. Finally, Over (Demo)** [PETE TOWNSHEND'S LIFE HOUSE DEMOS 1970 - 1971 – PART 1]
12. Baba O'Riley (Original Demo)** [PETE TOWNSHEND'S LIFE HOUSE DEMOS 1970 - 1971 – PART 1]
1. Pure And Easy (Home Studio Mix) (Demo)* [PETE TOWNSHEND'S LIFE HOUSE DEMOS 1970 – 1971 – PART 2]
2. Getting In Tune (Alternate Mix) (Demo)** [PETE TOWNSHEND'S LIFE HOUSE DEMOS 1970 – 1971 – PART 2]
3. Nothing Is Everything (Let's See Action) (Demo)* [PETE TOWNSHEND'S LIFE HOUSE DEMOS 1970 – 1971 – PART 2]
4. Won't Get Fooled Again (Demo)* [PETE TOWNSHEND'S LIFE HOUSE DEMOS 1970 – 1971 – PART 2]
5. Baba O'Riley (Demo)* [PETE TOWNSHEND'S LIFE HOUSE DEMOS 1970 – 1971 – PART 2]
6. Song Is Over (2021 Remix) (Demo)** [PETE TOWNSHEND'S LIFE HOUSE DEMOS 1970 – 1971 – PART 2]
7. Pure And Easy (Olympic Studios Mix) (Demo)** [PETE TOWNSHEND'S LIFE HOUSE DEMOS 1970 – 1971 – PART 2]
8. Mary (Original Mix) (Demo)* [PETE TOWNSHEND'S LIFE HOUSE DEMOS 1970 – 1971 – PART 2]
9. Baba O'Riley (First Editing Demo)** [PETE TOWNSHEND'S LIFE HOUSE DEMOS 1970 – 1971 – PART 2]
10. Song Is Over (Original Demo)* [PETE TOWNSHEND'S LIFE HOUSE DEMOS 1970 – 1971 – PART 2]
1. Don't Do It (aka Baby Don't You Do It) - Take 2, Unedited, March 16, 1971** [RECORD PLANT, NYC SESSIONS MARCH 1971]
2. Won't Get Fooled Again - Take 13, March 16, 1971* [RECORD PLANT, NYC SESSIONS MARCH 1971]
3. Behind Blue Eyes (Version 1) - Take 15, March 16, 1971** [RECORD PLANT, NYC SESSIONS MARCH 1971]
4. Love Ain't For Keeping - Take 14, March 17, 1971* [RECORD PLANT, NYC SESSIONS MARCH 1971]
5. The Note (aka Pure and Easy) - Take 21, March 17, 1971* [RECORD PLANT, NYC SESSIONS MARCH 1971]
6. I'm In Tune (aka Getting in Tune) - Take 6, March 18, 1971* [RECORD PLANT, NYC SESSIONS MARCH 1971]
7. Behind Blue Eyes (Version 2) - Take 10, March 18, 1971* [RECORD PLANT, NYC SESSIONS MARCH 1971]
1. Pure And Easy* [OLYMPIC SOUND STUDIOS, LONDON SESSIONS 1970-72]
2. I Don't Know Myself [B-side with Unreleased Count-in] [OLYMPIC SOUND STUDIOS, LONDON SESSIONS 1970-72]
3. Time Is Passing [Stereo Mix]** [OLYMPIC SOUND STUDIOS, LONDON SESSIONS 1970-72]
4. Too Much of Anything [Original 1971 Vocal]** [OLYMPIC SOUND STUDIOS, LONDON SESSIONS 1970-72]
5. Naked Eye [1971 Remake]** [OLYMPIC SOUND STUDIOS, LONDON SESSIONS 1970-72]
6. Bargain (Early Mix)** [OLYMPIC SOUND STUDIOS, LONDON SESSIONS 1970-72]
7. Love Ain't For Keeping (Unedited Mix)** [OLYMPIC SOUND STUDIOS, LONDON SESSIONS 1970-72]
8. My Wife (Unedited Mix)** [OLYMPIC SOUND STUDIOS, LONDON SESSIONS 1970-72]
9. Getting In Tune (Take 1 with Jam)** [OLYMPIC SOUND STUDIOS, LONDON SESSIONS 1970-72]
10. Going Mobile (Alternate Mix)** [OLYMPIC SOUND STUDIOS, LONDON SESSIONS 1970-72]
11. Song Is Over (Backing Track) [with Nicky Hopkins]** [OLYMPIC SOUND STUDIOS, LONDON SESSIONS 1970-72]
12. When I Was a Boy** [OLYMPIC SOUND STUDIOS, LONDON SESSIONS 1970-72]
13. Let's See Action (Unedited Mix)** [OLYMPIC SOUND STUDIOS, LONDON SESSIONS 1970-72]
14. Relay (Unedited Mix) [Alternate Vocal]** [OLYMPIC SOUND STUDIOS, LONDON SESSIONS 1970-72]
15. Put The Money Down [Remix with Original Vocal]* [OLYMPIC SOUND STUDIOS, LONDON SESSIONS 1970-72]
16. Join Together [Unedited Remix]** [OLYMPIC SOUND STUDIOS, LONDON SESSIONS 1970-72]
1. The Seeker (Original Single Mix) [SINGLES & SESSIONS 1970-72]
2. Here For More [Original Single Mix] [SINGLES & SESSIONS 1970-72]
3. Heaven And Hell [New Stereo Mix]** [SINGLES & SESSIONS 1970-72]
4. Water [Eel Pie Sound Studio – New Unedited Mix]** [SINGLES & SESSIONS 1970-72]
5. I Don't Know Myself [Eel Pie Sound Studio – New Unedited Mix]** [SINGLES & SESSIONS 1970-72]
6. Naked Eye [Eel Pie Sound Studio – New Unedited Mix]** [SINGLES & SESSIONS 1970-72]
7. Postcard [Eel Pie Sound Studio – Original 1970 Mix]** [SINGLES & SESSIONS 1970-72]
8. Now I'm A Farmer [Eel Pie Sound Studio – New Remix]** [SINGLES & SESSIONS 1970-72]
9. The Seeker (Unedited Version)** [SINGLES & SESSIONS 1970-72]
10. Water (IBC Version)** [SINGLES & SESSIONS 1970-72]
11. I Don't Know Myself (IBC Version)** [SINGLES & SESSIONS 1970-72]
12. Let's See Action (Original Single Mix) [SINGLES & SESSIONS 1970-72]
13. When I Was a Boy (Original Single Mix) [SINGLES & SESSIONS 1970-72]
14. Join Together (Original Single Mix) [SINGLES & SESSIONS 1970-72]
15. Relay (Original Single Mix) [SINGLES & SESSIONS 1970-72]
16. Waspman (Original Single Mix) [SINGLES & SESSIONS 1970-72]
17. Long Live Rock (Original Olympic Mix) [SINGLES & SESSIONS 1970-72]
1. Love Ain't for Keeping* [LIVE AT THE YOUNG VIC, LONDON – APRIL 26, 1971]
2. Pure And Easy* [LIVE AT THE YOUNG VIC, LONDON – APRIL 26, 1971]
3. Young Man Blues* [LIVE AT THE YOUNG VIC, LONDON – APRIL 26, 1971]
4. Time Is Passing* [LIVE AT THE YOUNG VIC, LONDON – APRIL 26, 1971]
5. Behind Blue Eyes* [LIVE AT THE YOUNG VIC, LONDON – APRIL 26, 1971]
6. I Don't Even Know Myself* [LIVE AT THE YOUNG VIC, LONDON – APRIL 26, 1971]
7. Too Much of Anything* [LIVE AT THE YOUNG VIC, LONDON – APRIL 26, 1971]
8. Getting In Tune* [LIVE AT THE YOUNG VIC, LONDON – APRIL 26, 1971]
9. Bargain* [LIVE AT THE YOUNG VIC, LONDON – APRIL 26, 1971]
1. Pinball Wizard** [LIVE AT THE YOUNG VIC, LONDON – APRIL 26, 1971]
2. See Me, Feel Me** [LIVE AT THE YOUNG VIC, LONDON – APRIL 26, 1971]
3. Baby Don't You Do It* [LIVE AT THE YOUNG VIC, LONDON – APRIL 26, 1971]
4. Water* [LIVE AT THE YOUNG VIC, LONDON – APRIL 26, 1971]
5. My Generation* [LIVE AT THE YOUNG VIC, LONDON – APRIL 26, 1971]
6. (I'm A) Road Runner* [LIVE AT THE YOUNG VIC, LONDON – APRIL 26, 1971]
7. Naked Eye* [LIVE AT THE YOUNG VIC, LONDON – APRIL 26, 1971]
8. Bony Moronie* [LIVE AT THE YOUNG VIC, LONDON – APRIL 26, 1971]
9. Won't Get Fooled Again* [LIVE AT THE YOUNG VIC, LONDON – APRIL 26, 1971]
1. Introduction** [LIVE AT THE CIVIC AUDITORIUM, SAN FRANCISCO – DECEMBER 12, 1971]
2. I Can't Explain* [LIVE AT THE CIVIC AUDITORIUM, SAN FRANCISCO – DECEMBER 12, 1971]
3. Substitute* [LIVE AT THE CIVIC AUDITORIUM, SAN FRANCISCO – DECEMBER 12, 1971]
4. Summertime Blues** [LIVE AT THE CIVIC AUDITORIUM, SAN FRANCISCO – DECEMBER 12, 1971]
5. My Wife* [LIVE AT THE CIVIC AUDITORIUM, SAN FRANCISCO – DECEMBER 12, 1971]
6. Baba O'Riley** [LIVE AT THE CIVIC AUDITORIUM, SAN FRANCISCO – DECEMBER 12, 1971]
7. Behind Blue Eyes* [LIVE AT THE CIVIC AUDITORIUM, SAN FRANCISCO – DECEMBER 12, 1971]
8. Bargain* [LIVE AT THE CIVIC AUDITORIUM, SAN FRANCISCO – DECEMBER 12, 1971]
9. Won't Get Fooled Again** [LIVE AT THE CIVIC AUDITORIUM, SAN FRANCISCO – DECEMBER 12, 1971]
10. Baby Don't You Do It* [LIVE AT THE CIVIC AUDITORIUM, SAN FRANCISCO – DECEMBER 12, 1971]
11. Magic Bus** [LIVE AT THE CIVIC AUDITORIUM, SAN FRANCISCO – DECEMBER 12, 1971]
1. Introduction To Tommy** [LIVE AT THE CIVIC AUDITORIUM, SAN FRANCISCO – DECEMBER 12, 1971]
2. Overture** [LIVE AT THE CIVIC AUDITORIUM, SAN FRANCISCO – DECEMBER 12, 1971]
3. Amazing Journey** [LIVE AT THE CIVIC AUDITORIUM, SAN FRANCISCO – DECEMBER 12, 1971]
4. Sparks** [LIVE AT THE CIVIC AUDITORIUM, SAN FRANCISCO – DECEMBER 12, 1971]
5. Pinball Wizard** [LIVE AT THE CIVIC AUDITORIUM, SAN FRANCISCO – DECEMBER 12, 1971]
6. See Me Feel Me** [LIVE AT THE CIVIC AUDITORIUM, SAN FRANCISCO – DECEMBER 12, 1971]
7. My Generation** [LIVE AT THE CIVIC AUDITORIUM, SAN FRANCISCO – DECEMBER 12, 1971]
8. Naked Eye* [LIVE AT THE CIVIC AUDITORIUM, SAN FRANCISCO – DECEMBER 12, 1971]
9. Going Down* [LIVE AT THE CIVIC AUDITORIUM, SAN FRANCISCO – DECEMBER 12, 1971]
1. Baba O'Riley [BLU-RAY AUDIO]
2. Bargain [BLU-RAY AUDIO]
3. Love Ain't for Keeping [BLU-RAY AUDIO]
4. My Wife [BLU-RAY AUDIO]
5. The Song Is Over [BLU-RAY AUDIO]
6. Getting In Tune [BLU-RAY AUDIO]
7. Going Mobile [BLU-RAY AUDIO]
8. Behind Blue Eyes [BLU-RAY AUDIO]
9. Won't Get Fooled Again [BLU-RAY AUDIO]
10. The Seeker (Unedited Version)** [BLU-RAY AUDIO]
11. Here For More* [BLU-RAY AUDIO]
12. Now I'm A Farmer** [BLU-RAY AUDIO]
13. I Don't Know Myself (Eel Pie Sound Version)** [BLU-RAY AUDIO]
14. Water (IBC Version)** [BLU-RAY AUDIO]
15. Naked Eye (Olympic Sound Version)** [BLU-RAY AUDIO]
16. Pure And Easy** [BLU-RAY AUDIO]
17. Too Much of Anything** [BLU-RAY AUDIO]
18. Let's See Action** [BLU-RAY AUDIO]
19. When I Was a Boy** [BLU-RAY AUDIO]
20. Join Together (Unedited Version)** [BLU-RAY AUDIO]
21. Put The Money Down** [BLU-RAY AUDIO]
22. Relay (Unedited Version)** [BLU-RAY AUDIO]
23. Long Live Rock** [BLU-RAY AUDIO]
More Info:
Super Deluxe Edition contains 10 CDs (all remastered from original tapes) and a Blu-ray Audio disc with new Atmos & 5.1 surround mixes of the original album and 14 bonus tracks. 155 total tracks with 89 tracks previously unreleased and another 57 tracks with a fresh remix. Included are demos, singles, studio sessions, and 2 complete concerts. Plus, a 100-page hardback book with new liner notes and imagery, a 170-page Life House graphic novel, 2 gig posters, 2 concert programs, 4 buttons and a band photo with printed autographs.

The Remastered albums are available in the following formats: Limited Edition Super Deluxe 10CD/Blu-ray, Deluxe 2CD, CD, LP, Limited Edition Deluxe 4LP, Indie Exclusive Limited Edition Coke Bottle Clear LP, Half Speed LP
Reviews:
* Previously released with new remix ** Previously unreleased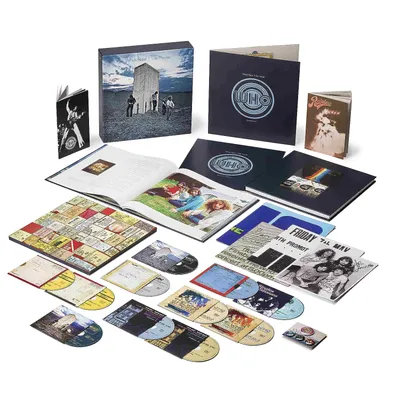 Promotions
THE WHO - Free Double Sided Poster
The Who's classic album Who's Next has been remastered and now you can remaster your wall by picking up this FREE DOUBLE SIDED POSTER when you buy your copy of Who's Next | Life House.

IN STORE ORDERS ONLY, WITH PURCHASE WHILE SUPPLIES LAST
The Who's Next | Life House Editions
back to top